Serving the Mexican egg market
Mexico claims the highest consumption of eggs in the world. An impressive average of 350 eggs per person, per year, according to a 2015 study. To meet this demand, it is important for egg industry decision-makers to be informed of the latest developments in management and genetics. For this purpose, we were pleased to be a part of Incubadora Mexicana's bi-annual seminar.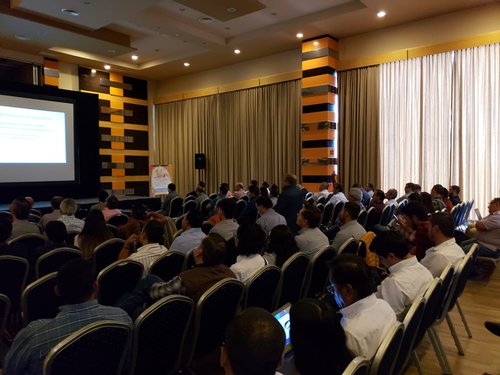 Incubadora Mexicana (IMSA) is a Mexican distributor in breeding and commercial laying hens, and a valued, longtime partner. The seminar was held in Guadalajara, Jalisco and was titled "16 Ciclo de Conferencias Las Pollas Bovans White: Eficientando los Ciclos Largos" (16th technical series: Bovans White, efficiency in longer cycles).
The Bovans White product is a key player in Mexico, making up 65% of the laying hens in the market. Representatives from Hendrix Genetics in senior management, sales, and R&D spoke on new developments in performance to keep customers up to date on the latest progress in Bovans White genetics. Presentations included a company update, new developments in genetic performance, and nutritional tips for an extended production cycle. Dr. Guillermo Zavala (Hendrix Genetics consultant) spoke on laying hen health and biosecurity. IMSA customers also presented on field results of the Bovans White.
More than 120 key decision-makers attended the event, representing 70 million Bovans White and some of the major poultry companies in Mexico. Congratulations to our GP distributor IMSA-Sanfer, one of the most successful companies in the poultry business in Latin America, and Jose Luis Aviles, IMSA's Director and his team. We look forward to continuing to work together in successfully serving the Mexican egg market.